Vaccinator CPR and anaphylaxis course
Complies with requirements of the Immunisation Handbook 2020
This course provides health professionals administering immunisations resuscitation training in accordance with the requirements outlined in the Immunisation Handbook 2020. It is designed to give vaccinators the skills, knowledge and confidence required to provide relevant first aid in emergencies that may occur during an immunisation. This course also covers NZQA Unit Standard 6402.
This course covers:
Infant, child and adult CPR, including mouth-to-mouth, mouth-to-mask and the management of choking
Use of an automated external defibrillator
One- and two-person bag valve mask ventilation and mouth-to-mask technique
Administration of IM adrenaline for treatment of anaphylaxis, including:

Signs and symptoms of anaphylaxis
Distinguishing anaphylaxis from fainting, anxiety, immunisation stress-related responses (ISRR), breath-holding spells and seizures
Emergency equipment and management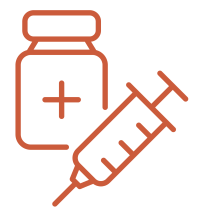 You can complete the Immunisation Handbook 2020 requirements in 3 ways:

* Early payment discount available. Discounted group booking rates with price guarantee: We beat any written quote for the same service and course by 15%.
What else you need to know
Prerequisites
This course has no prerequisites but you need to have an acceptable level of spoken English and sufficient physical fitness to perform first aid skills, including performing CPR on the floor.
Where can I find out more about the first aid training requirements for vaccinators?
The requirements are listed in section A4.4 of the Immunisation Handbook 2020. Click on the image on the right to download the handbook. If you  would like to discuss these requirements with us and/or would like advice on how to best meet the requirements for your workplace, feel free to call us.
Make a booking
We offer this course on request:
To request a course, please complete the form below.
If you have any questions or would like to discuss your training needs with us, just give us a call on 07 856 1194.